Trout Fishing Upper Nantahala Fly Fishing Report
Upper Nantahala River fly fishing report provides updates on river conditions for the Delayed Harvest sections of the river. Today is light rains and overcast which should create epic hatches! Bugs are coming off heavily on the upper right now and fish are looking up. These types of low light days are always among my favorite on the water, especially in the spring. The lower Nantahala River opened up in early April and it has been fantastic as well! NC closes the hatchery supported waters during the month of March with the exception of the Delayed Harvest waters and the Great Smoky Mountains National Park streams.
Common Nymphs on the Upper Nanty
It was fishing great all through February. On opening day we will be there throwing a two-fly rig of bigger flies in the morning. I stay with the bigger patterns like size 12 jig hooks when the flows are up. Fish will be gorging themselves on a multitude of patterns. Some of my favorites on high water include a Birds Nest, Hares Ear, a large Prince Nymph, and the Frenchie. Water has been running clear for weeks now as we have bypassed any significant rainfall. If you prefer low water on the lower Nantahala be sure to check the release schedule from Duke Power. The weather can change quickly in this part of the country so be prepared by checking the weather!
The Upper Nantahala River is a bug factory with greater hatches than the lower offers. Lately, we have seen a healthy amount of little Black Stones, Black Caddis, Red Quills, Hendricksons, Quill Gordons, Blue Quills, and the March Browns are still pouring off in the late morning. Fish will most likely be holding deeper early morning with the cold front in place. Getting your flies down deep should be the ticket for some great action.
Upper Nantahala Is an Excellent BUG factory!
If you like to fish a hatch then this river trumps most of the waters around Western North Carolina! All of this region has huge Blue Winged Olive hatches during cloudy days. Use a small BWO pattern for the emergers, a small #18 or #20 for the point fly, and a #18 BWO dry on the top. This is usually some of the fastest and furious angling of the season with heavy feeding. Fish tend to focus more selectively on BWO's when this occurs.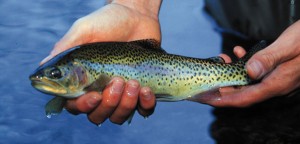 Use the contact page or call 828-736-1469 for questions or booking your next adventure to the Great Smoky Mountains! Learn to fly fish with the top outfitter in the Western NC area since 1987. We offer a host of opportunities for fly fishing but the most common include guided float trips and guided wade trips around the Bryson City, NC area.