Fly Fishing Bio for Mac Brown in North Carolina
Mac Brown is the owner of Mac Brown Fly Fish and Fly Fishing Guide School in Western NC. Mac created the first full-time fly fishing guide service in Western North Carolina. The first Delayed Harvest on the Upper Nantahala River in early 1993 was also a result of his efforts. Check out the testimonials from others over the past three decades.
Educator and Instructor
Educator as Associate Professor at Western Carolina University (94-98) teaching the Fly Fishing Program at the collegiate level. Many of those former students from that era are directly responsible for bringing the competition scene back to this region. This area has been a hotbed for a very long time now in regard to producing some of the top anglers around the globe.
Author of Fly Fishing Books
Mac Brown is the author of "Casting Angles" which is a fly casting handbook for those on the journey of understanding the mechanics of the cast. The ACA, FFI, and others have endorsed this text as a reference for instructors as well. Mac is a Master Casting Instructor through the Fly Fishers International.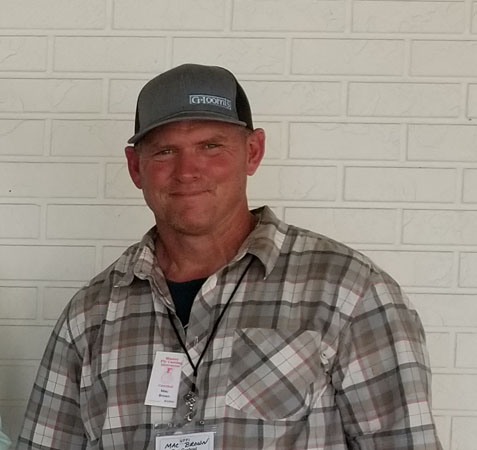 Fly Fishing Hall of Famer
Mac was inducted into the Southern Appalachia Fly Fishing Museum Hall of Fame under recreation on August 26, 2017. The induction speech can be found on the Fly Fishing Guide School page which pays tribute to the many friends that I am thankful for. I am proud to claim Bryson City, NC my home since 1987.
FFI Mel Krieger Fly Casting Instructor Award
Mac was the recipient of this award on October 12, 2021, from the FFI. An award given by the Casting Board of Governors (CBOG) in recognition of those who have made significant contributions to the FFI Casting Instructor Certification Program, have dedicated themselves to fly casting instruction, and have shared their knowledge with others. This was a huge honor for Mac as Mel was one of his heroes in fly casting. It was always a pleasure to watch him in action at events over the years.
Angler of the Year and TV Host for Fly Fishing
Mac was "Angler of the Year" in Field and Stream in 1999. His articles have appeared in Fly Rod and Reel, Fly Fisherman, Angling Report, ESPN TV, Outdoor Life, Field and Stream, Fly Fishing America T.V., Fly Fishing the World, and many others.
Pro Staff Development of Fly Fishing Products
Mac is a pro staff member of Ross Reels, Simms, Maxima, and many other great companies since early 1990. He is an ambassador for the brands Patagonia, GLoomis rods, Regal Vise, Richardson Chest Boxes, and Scientific Anglers fishing lines. His most significant contributions have been the push to longer and lighter fly rods and fly line designs. Check out the Sponsors page to see the great products used for the fly fishing programs!
Some online sessions which may be of interest can be found at "Ask About Fly Fishing" for many great topics related to fly fishing from a large selection of hosts (including some I had done on fly casting). The Articulate Fly also has many topics on fly casting and fishing.
Fontana Lake
Fly Fishing Conclaves, Presentations, and Shows
As an active instructor, Mac participates in Fly Fishing Shows, FFI Conclaves, and clubs around the country doing presentations on casting, fly tying, or fishing tactics. One of the coaches for Fly Fishing Youth Team USA during the past decade. Youth is the future of fly fishing! Watching their enthusiasm and drive is contagious as they progress in their journey! They have had remarkable successes in a very short amount of time. Multiple USA World Champions and Gold medals have blessed the Fly Fishing USA Youth Team.
I have been fortunate to have taught alongside some of the biggest names in the sport of fly fishing. This has been an exponential journey of teaching and instructing all over the globe for the past 38 years.
Many thanks to Bruce Richards, Al Buhr, Jim Green, Leon Chandler, Gary Borger, Jason Borger, Steve Rajeff, Tim Rajeff, Joan Wulff, Doug Swisher, Randy Swisher, Lefty Kreh, Mel Kreiger, Dave Whitlock, Lee Cummings, Paul Arden, Eric Cook, David Lambert, Gary Lafontaine, Leslie Holmes, Ed Jaworski, Rick Hartman, Dusty Sprague, Raz Reid, Peter Morse, Carl Mcneil, Gordy Hill, and so many others.
I am grateful for these folks willing to share their knowledge of the sport with others and appreciative of their friendship! Sharing ideas with these top-level instructors helps to push the sport of fly fishing forward.
As a professional guide, instructor, and educator he has helped tens of thousands of beginners through advanced anglers! Learn to become more proficient in the art of fly casting and fly fishing by using the menus above bookings. The office environment of being on a river for most of my days teaching about the art of fly fishing is the best! Use the contact page, email [email protected], or call (828)736-1469 for booking questions.