The blog is dedicated to sharing information about the wonderful sport of fly fishing. Fly fishing has so many different avenues that make it up in full.   A few of these topics would include gear, techniques of using the gear, behavior of fishes and insects, ecology, conservation, fly tying, the stealth factors, timing of external factors (moon phases, barometer, water temps, etc…) and many others! Each one of those topics takes us down many other new avenues. By example, fly tying takes us into various colors  which match the water and light conditions, trigger mechanisms put into the pattern (acoustic footprint, action of materials, etc..), dyeing and preparing fur and feathers, and the list goes on. Fly tying is a wonderful hobby! When you add the fly fishing aspect to fly tying, I cannot think of a better marriage of hobby and sport.
To use the site for past posts you can scroll down on the right hand side of main page and hold your mouse over the Post Categories box. A list of fly fishing subjects open up from there and take you directly to that topic. This helps to index all of the past posts archives for a simpler ease of access.
The blog should provide information on many topics. The learning curve for the sport is never ending because there will always be new things that come to you. It may be a new cast that solves a problem for a particular location on the water, it may be a new twist on a  pattern, a new material for furling your own leaders. These are just a few of the challenges which may come to you. It is always evolving at a rapid pace! This is so true now-a-days with the use of the web.  Stay tuned!
BIO Mac Brown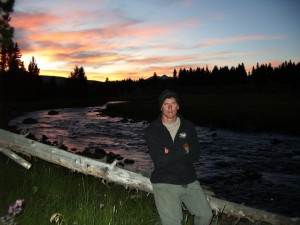 Mac Brown started McLeod's Highland Fly Fishing in 1987 as an independent guide and educator. The company now goes by the name Mac Brown Fly Fish. I was the first full time guide service in the Western NC region. Mac was instrumental as well with helping get the first Delayed Harvest on the Upper Nantahala River in early 1993. About that same time period, he was Associate Professor at Western Carolina University teaching the Fly Fishing program at the collegiate level. Many of those former students from that era are directly responsible for bringing the competition scene back to this region. This area has been a hotbed for a very long time now in regards of producing some of the top anglers around the globe.
Mac Brown is the author of "Casting Angles" which is a fly casting handbook for those on the journey of understanding the mechanics of the cast. The ACA, IFFF, and others have endorsed this text as a reference for instructors as well. Mac is a Master Casting Instructor through the International Federation of Fly Fishers.  I am proud to claim Bryson City, NC my home since 1987. I was the first full time permitted and insured guide for this region in 1987. I was the Field and Stream Angler of the Year in 1999. My teachings have appeared in Fly Rod and Reel, Fly Fisherman, Angling Report, ESPN, Outdoor Life, Field and Stream, Fly Fishing America T.V., Fly Fishing the World, and many others. Mac is a pro staff member of Ross Reels, Scientific Anglers, Richardson Chest Boxes, Sage, Simms, Regal Vise, Maxima, and many other great companies since early 1990. Some online sessions which may be of interest can be found at "Ask about Fly Fishing" for many great topics related to fly fishing from a large selection of hosts (including some I had done on casting).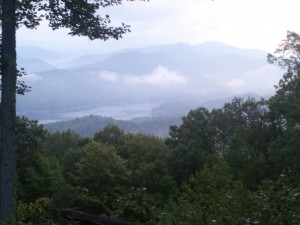 Fontana Lake
During the winter months I enjoy actively participating at the Fly Fishing Shows, IFFF Conclaves around the country doing presentations on casting, fly tying, or fishing tactics. I have enjoyed coaching the Team USA Youth Team during the past 6 years immensely and watching them progress in part because their enthusiasm and drive is contagious. They have had remarkable successes in a very short amount of time with four USA World Champions and many Gold medals as Youth Team USA.
I have been fortunate to have taught with some of the biggest names in the sport of fly fishing through branching out at the largest national fly fishing shows and conclaves. This has been an exponential journey teaching and gaining information from folks over the past three decades from people like Bruce Richards, Al Buhr, Jim Green, Leon Chandler, Gary Borger, Jason Borger, Steve Rajeff, Tim Rajeff, Joan Wulff, Lefty Kreh, Mel Kreiger, Dave Whitlock, Lee Cummings, Paul Arden, Eric Cook, David Lambert, Gary Lafontaine, Leslie Holmes, Ed Jaworski, Rick Hartman, Dusty Sprague, Raz Reid, Peter Morse, Carl Mcneil, Gordy Hill, Lee Cummings, and so many others. We are grateful for these folks willingness to share their knowledge of the sport with others and appreciative for their friendship! Through sharing ideas with these top level instructors it helps to push the sport of fly fishing forward.
I am a professional guide and owner of Mac Brown Fly Fish, which specializes in guided float trips, guided wade trips, guided lake trips, casting instruction, video casting lesson, fly fishing schools, groups and corporate trips, back country trips, programs and demonstrations, and destination trips! I have fished around the globe many times in pursuit of great trout fishing! I have helped tens of thousands of beginners through advanced anglers become more proficient in the art of fly casting since 1987. I love the office environment of being on a river for most of my days teaching about the art of fly fishing!
Area Attractions Near Bryson City

Other area attractions can be found through contacting the Bryson City, NC Chamber of Commerce. The number is 800-867-9246. Swain County is the trout mecca of the southern states. Over 75% of the county is either Nantahala National Forest or the Great Smoky Mountains National Park. The Park visitors exceed 14 million people per year! When you consider all of the whitewater rafting, Smoky Mountain Railroad, Appalachian Trail hikes, hundreds of waterfall hikes, great mountain biking, and many other outdoor adventures it is not hard to see why our little mountain town of Bryson City is always expanding. Many great new restaurants and lodging in Bryson City for hosting large groups. Cherokee, NC is about a 10 minute drive from Bryson City. Gatlinburg, TN is a 45 minute drive over the hill to Bryson City. We are about an hour drive from Highlands and Asheville NC. Knoxville and Chattanooga TN is about 2 1/2 hours away. Atlanta, GA and Charlotte, NC are about a 3 hour drive. Plan your next get-a-away to the trout mecca town of Bryson City, NC! My favorite addition to the town is the Nantahala Brewery which also provides some very good bands all through the season!
What you need to bring
I want to show you what it will take for learning to fly fish on your own in some of the best waters in western North Carolina! Our guides have decades of experience instructing you for a memorable adventure in the Great Smoky Mountains! The trout fishing in the smoky mountains is among the most scenic in all of North America!
You should bring rain gear, warm cloths, sunscreen, lip balm, a hat and polarized glasses. It will benefit your success on the water to wear clothing that blends into the surroundings. You can also check the weather here for layering considerations of clothes. If you plan to fish and are older than sixteen, you can purchase your valid NCWRC license here online or by phone at 1-888-248-6834. You will need a trout stamp for everything outside the GSMNP and Tribal Waters in Cherokee, NC. You need either a NC or TN fishing license for the Great Smoky Mountains National Park. The tribal license can be purchased at many of the stores in Cherokee. Use the contact page or call (828)736-1469 for booking.