Casting Angles
Casting Angles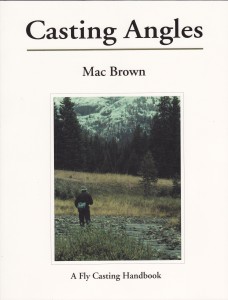 Casting Angles is a compilation of fishing casts that I began working on in the early nineties. It can be used to diagnose your cast and offer the tools for coming up with new casts for on the stream. The Great Smoky Mountains streams offer such diverse current and canopy for assisting me to create such a fly casting text. The book has loads of fishing casts that is a radical deviation from what has been offered thus far in our sport. You can read reviews on the book here. I am humbled that so much of the lingo that I came up with from teaching and instructing fly casting in the late 1980's has become common language globally among the instructor community today. The terminology definitely helped to shape the way I perceived fly casting and still does today. We make fly casts when fishing to solve problems on the stream and that is the great beauty of fly fishing! I ship the books signed and direct from here or you can go to  Amazon.com.
ISBN # 1-890485-00-4
Paper back (238 pages)
U.S. price is $34.95 +$5.00 S&H = $39.95

International price is $34.95 +$22.00 S&H=$56.95
Highland Press
Area Attractions Near Bryson City

I offer guided trout fishing trips, fly casting instruction, and other fly fishing programs in Bryson City, NC. You can use the Fly Fishing Guided Trips in the menu to find out more information or many sub menus under that for your fly fishing adventure! Other area attractions can be found through contacting the Bryson City, NC Chamber of Commerce. The number is 800-867-9246. Swain County is the trout mecca of the southern states. Over 75% of the county is either Nantahala National Forest or the Great Smoky Mountains National Park. The Park visitors exceed 14 million people per year! When you consider all of the whitewater rafting, Smoky Mountain Railroad, Appalachian Trail hikes, hundreds of waterfall hikes, great mountain biking, and many other outdoor adventures it is not hard to see why our little mountain town of Bryson City is always expanding. Many great new restaurants and lodging in Bryson City for hosting large groups. Cherokee, NC is about a 10 minute drive from Bryson City. Gatlinburg, TN is a 45 minute drive over the hill to Bryson City. We are about an hour drive from Highlands and Asheville NC. Knoxville and Chattanooga TN is about 2 1/2 hours away. Atlanta, GA and Charlotte, NC are about a 3 hour drive. Plan your next get-a-away to the trout mecca town of Bryson City, NC! My favorite addition to the town is the Nantahala Brewery which also provides some very good bands all through the season!
What you need to bring
Let us show you what it will take for learning to fly fish on your own in some of the best waters in western North Carolina! Our guides have decades of experience instructing you for a memorable adventure in the Great Smoky Mountains! You should bring rain gear, warm cloths, sunscreen, lip balm, a hat and polarized glasses. It will benefit your success on the water to wear clothing that blends into the surroundings. You can also check the weather here for layering considerations of clothes. If you plan to fish and are older than sixteen, you can purchase your valid NCWRC license here online or by phone at 1-888-248-6834. You will need a trout stamp for everything outside the GSMNP and Tribal Waters in Cherokee, NC. You need either a NC or TN fishing license for the Great Smoky Mountains National Park. The tribal license can be purchased at many of the stores in Cherokee. Use the contact page or call (828)736-1469 for booking.