Mac Brown Fly Fish Trucker Hats
We are excited to resurrect the Mac Brown Fly Fish trucker hats again. The trucker hat is available in two colors pictured below. I have hats available during trips and casting classes. They retail for $25.00. Great for assisting in keeping rain and sun off during long days on the water.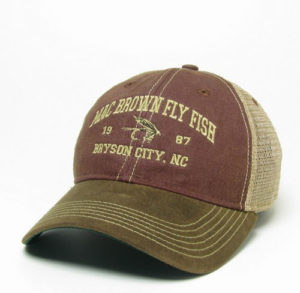 Burgundy/Brown Trucker Hat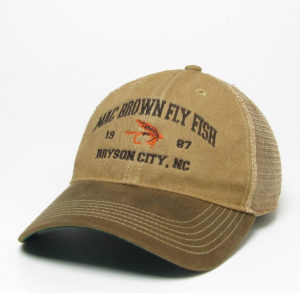 Khaki/ Brown Trucker Hat
Mac Brown Fly Fish trucker hats give you something to remember your adventure in the Great Smoky Mountains National Park, Nantahala National Forest, or Delayed Harvest waters of Swain County. Adventure awaits you in the Smoky Mountains town of Bryson City, NC. Our town is home to the Southern Appalachian Fly Fishing Museum.
Make a statement out on the stream or dress up out on the town by advertising our brand in your neck of the woods! Thanks to all of our thousands of clients over the years that have let us pursue what we love to do. Sharing our passion with others about fly fishing is the best!
mac brown fly fish trucker hats