Meet our Guides at Mac Brown Fly Fish
Tony Brooks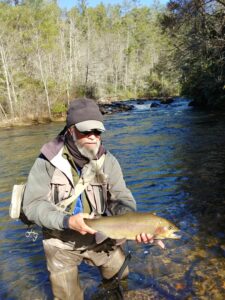 An East Tennessee native, Tony has lived in Hendersonville, NC with his wife Charlotte since 1999. They have a grown son, a daughter, and one granddaughter. He has over 45 years of experience fly fishing and has become very serious as an instructor. He learned to fly fish on the Davidson River in the Pisgah National Forest and Big Santeehlah Creek in Graham County, NC. Fly fishing has taken him from Key West, FL to Portland, OR, and lots in between. Meet our Guides
Tony is a member of Team Stonefly (a competitive fly fishing team), Hilltop Fly Tyers, and a Casting Carolinas River Helper, President; French Broad Fly Fishers-FFI Charter Club, Competitor-2016 US National Fly Fishing Championship-Lake Placid, NY. Guiding professionally since 2009, Tony is a perpetual student of the sport because of its simultaneous simplicity and complexity. Fly fishing offers something new on every trip. It's an activity where one skill is built on another and I enjoy passing that knowledge along to others wanting to improve or just getting started.
Connor Brown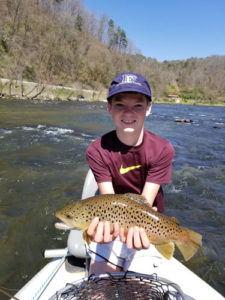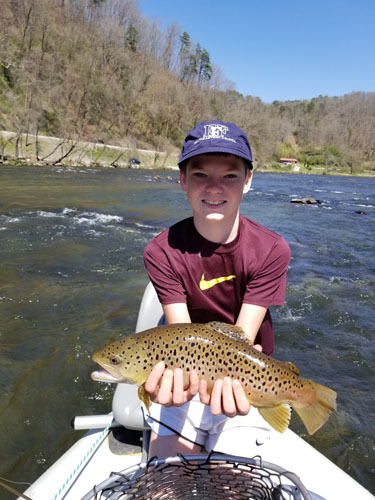 Connor began to fly cast at the very early age of 2. He has been to many high-level practices over the years with his dad, Mac Brown for USA Youth Fly Fishing Team, Advanced Casting Schools, and the week-long fly fishing schools. His favorite fly fishing streams include the many freestones in the region around Bryson City, NC. He accompanied his dad on many trips fishing around Colorado, Idaho, Arkansas, Montana, Wyoming, and British Columbia. Meet our Guides
Connor enjoys teaching other young people the most that are curious about improving their skills. He is a good communicator for dialing in drift and line control for surface or sub-surface angling techniques. He can also dial in your line control quickly in regard to casting and mending.
Ken Kastorff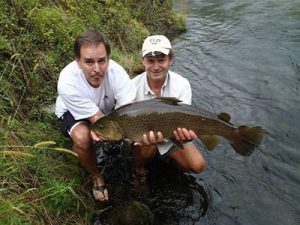 Ken is an active fishing guide through his company Endless River Adventures. He has over 55 years of whitewater experience and taught the instructor clinics for years for the American Canoe Association. He is one of the most notable whitewater instructors to ever come out of the Western NC region.
Ken invented many techniques used for teaching kayaking in the early '90s. He has vast experience fishing for all types of exotic species throughout South and North America. Most recently, he runs trips regularly to Ecuador as well as his home waters around Bryson City.
Mac Brown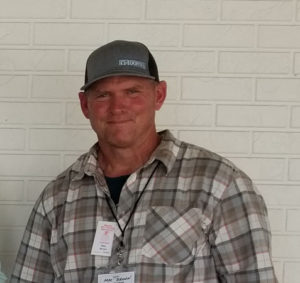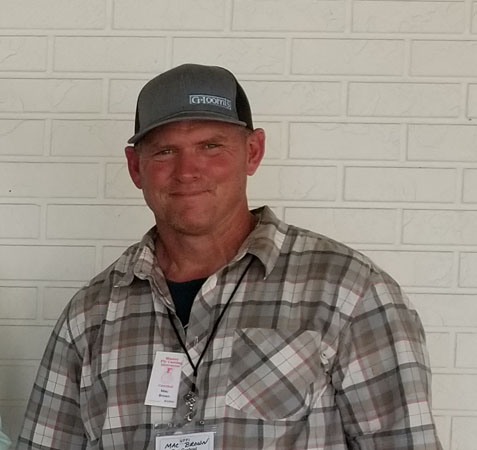 Cassie Spurling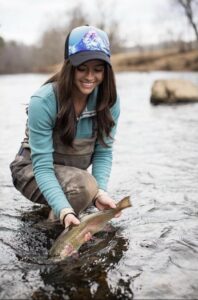 Cassie Spurling is a Flyfishing Guide in North Carolina and North Georgia. She grew up in the mountains of western North Carolina, introduced to an outdoor lifestyle at an early age, and has been flyfishing since the age of 6 in the various rivers, streams, and lakes of western North Carolina and in the north Georgia region. As well as spending a good deal of time fishing out west.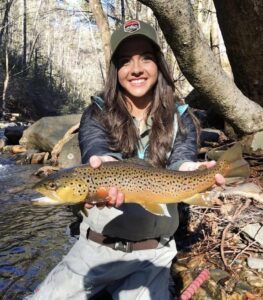 Cassie is involved with, and passionate about conservation and preserving our streams and rivers as well as ensuring a future for the sport of Flyfishing for generations to come. Along with guiding Cassie has fished some competitively, and attended Lee University in Cleveland, Tennessee on a fly fishing scholarship. She now resides in the mountains of North Carolina and continues to guide, live, and promote the outdoor lifestyle that she is so passionate about. Meet our Guides
Jerry Yates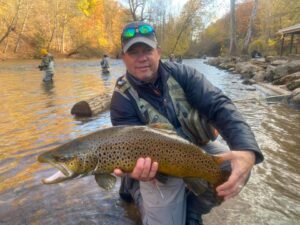 Jerry grew up fly fishing in the Rocky Mountains. He ventured often to fish the waters of WV, PA, OH, and NY when he moved to the eastern US. Jerry served as a police officer for 27 years on the force in Ohio. He recently retired to the mountains of western North Carolina. Jerry is an expert in the entomology of aquatic insects and reading water conditions to find fish.
In 1996, Jerry created Frog's Fanny Fly Treatment because he couldn't find anything that would make an artificial fly float properly. Frankly, he was tired of his flies looking like a wet glob on the water. He wanted something that would keep the fly dry without per-treating it or having to change to a new dry fly. Frog's Fanny can treat the fly even after it was full of fish slime. Frog's Fanny was the answer to all of these problems including nymphing and wet fly techniques. With the help of his father-in-law, he learned how to market it and get it into the hands of fly fishers everywhere. Today, Frog's Fanny is sold all across the U.S. and in many international locations. Meet our Guides
Cris Weatherford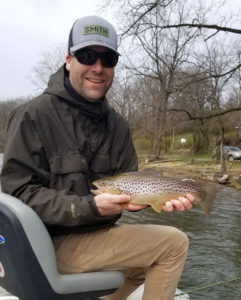 Cris was born and raised on the banks of the Catawba River. When not on a soccer field he was in his red canoe fishing for anything with gills. Upon graduating from WCU with a BSW he went to work starting a career in social work and a family.
Fly fishing became his escape from the stresses of both of these full-time jobs. An obsession was born and he has fished in Montana, Chile, Canada, and Ireland. In 2008, Cris began teaching others some of the things he has learned about trout, flies, knots, and casting.
He still works a full-time job in social services but on weekends he enjoys spending time with his wife and 3 sons who are in various stages of adulthood. When time permits he really enjoys getting newcomers in the boat or on the stream to teach fundamentals of reading water, casting, and line management.