Fly Fishers United Guide / Outfitter of the Year since 1987
NC fly fishing guided trips, lessons, schools & trout fishing instruction opportunities await you in the beautiful Smoky Mountains! Premier North Carolina fly fishing trips located in the "Trout Mecca" town of Bryson City, NC since 1987! Fly fishing lessons are the quickest method for improving your skills as a beginner or an experienced fly fisher. Sharing with you what we have learned over many decades is our passion, hence we love to teach! Learning to fly fish on your own is the goal to assist you with your future fly fishing trips! A fly fishing lesson is the quickest way, hence to fast-track your journey! Below is more info about all of our programs and what we offer. Make sure to check out my Bio to see why we have been able to share this passion for 35 years of service in the fly fishing world.
Fly Fishing Lessons and Instruction in Bryson City, North Carolina
Fly fishing instruction often goes by names such as fly fishing lessons, classes, courses, fly fishing schools, and many others. They all boil down to your personal training with proven techniques that work! Mac Brown Fly Fish provides everything you need for the day for all skill levels, hence beginner fly fishers to seasoned anglers!
The day is custom-tailored to you and your wishes of what you want to pick up. I have set a very high standard over the years in that there is a heavy emphasis on fly casting, reading water, subtle clues in observation, multiple techniques applied for certain water types, hook sets, and playing fish! In addition, we provide everything you need for the day with the most experienced instructor and guides in the region! All new clients receive my book Casting Angles to further their understanding because fly casting is an art!
The intrinsic value of what you come away with learning is the whole reason I have been blessed to carve out a living, hence working in a field that I love! The original provider of guided fly fishing trips in North Carolina since 1987! We enjoy teaching the full spectrum the sport has to offer you! Check out the Kudos page or Google My Business to see what separates us from the competition! If you look at reviews, etc… online for my area you will find many that rate their own businesses and all kinds of bizarre claims! Do your homework because I can assure you the best intrinsic value overall for your progression as a fly fisher!
Trout Fishing Guided Trips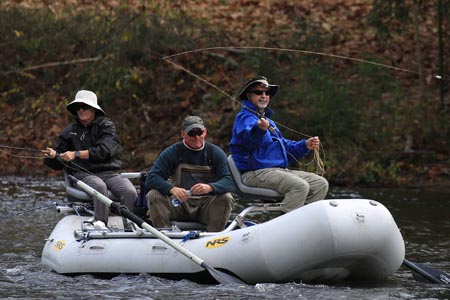 NC
Fly Fishing Guided Trips, Lessons, Schools & Trout Fishing Instruction
Fly Fishing Guided Float Trips
Book Now Full Day Float Trip Book Now Half Day Float Trip
A guided float trip is recommended for those seeking to cover lots of prime water without the worry of taking an unexpected dip. The float trips are a better choice for the very young and old throughout the year because you remain warmer fly fishing from a boat in cool temps. I spend close to 75% of the time guiding fly fishing from a boat on the Delayed Harvest trips. Guided float trips prevent the worry of taking an unexpected dip hence more common for the new wade fly fisher.
Fly Fishing Guided Wade Trips
Book Now Full Day Wade Trip Book Now Half Day Wade Trip
The guided fly fishing wade trip is best for those with specific goals to improve which matches what they normally do when they go out on their own. Goals such as improving your casting, hook setting, water reading, and playing fish are typical on most days. All skill levels are welcome, hence beginner fly fishers to the seasoned angler.
Fly Fishing Guided Lake Trips
I enjoy the winter months the most for opportunities to fly fish for trout! The guided lake trips are addictive because the trout are powerful in the lakes and reach much bigger sizes on average. The use of three flies per leader and long casts makes lake fishing a bit more difficult for new fly fishers. NC fly fishing guide trips, lessons, schools & trout fishing instruction happen all year on the beautiful lakes of the Smokies! The rewards are much greater overall though compared to a river trip.
Fly Casting Instruction
1-Hour Fly Casting 2-Hour Casting Lesson 3-Hour Casting Lesson
From single-handed casting, Skagit, and two-handed casting I enjoy teaching all levels of fly flingers! I am a Master Casting Instructor through the FFI. Rates are ($300.00 per hour) for fly casting instruction. Private instruction is common all months of the year. Perfect for the tune-up to your exotic dream trip! I do offer several clinics throughout the year based here in Bryson City which helps to raise the bar for my local area. NC fly fishing guide trips, lessons, schools & trout fishing instruction happen all year long! Message me for information on upcoming dates.
Fly Fishing Specialty Classes
Check the fly fishing specialty classes page out for a weekend class tailored to you. This page also has multiple fly fishing show locations where I will be teaching in a town near you! If you are interested in a specific technique that includes all of the classics then I would strongly suggest checking these classes out as they fill rapidly throughout the year and are limited.
Fly Fishing Guide School
The fly fishing guide school is the best plan of action for anglers that truly wish to improve their personal skills or desire the proper training to become professional guides. We place graduate guides all over the globe through the schools. Job placement opportunities are vast through the training which you receive through the schools. Learn how to be a fishing guide with these opportunities right here in Bryson City, NC! Skills such as rowing, fly casting, teaching, tactics, and fly fishing techniques will improve your knowledge of trout fishing.
Delayed Harvest Fly Fishing for Trout
I helped to establish the "delayed harvest" concept in 1991 with the NCWRC. The first pilot program was on the Upper Nantahala River. The town of Bryson City now has its very own Delayed Harvest section of the Tuckasegee river right through town! Furthermore, these programs are perfect for those new to the sport or those chasing big trout and lots of numbers. Check out the NCWRC map for the stocking dates of the Delayed Harvest!
Great Smoky Mountain National Park Wild Trout Fly Fishing
There are over 2,400 miles of wild trout waters in Swain County! North Carolina has the highest percentage of government lands East of the Mississippi River! In part, that is why I moved here straight out of college in 1987. Wild streams in the Smokies are more technical fly casting because of diverse currents and plenty of obstacles. It is better suited for intermediate to advanced casters overall. NC fly fishing guide trips, lessons, schools & trout fishing instruction are offered year-round! We look forward to seeing you on the water soon! In addition, call 828-736-1469 or [email protected] for questions about your next trout fishing trip!