Trout Fishing Back Country Trips
Trout Fishing Back Country Trips
Enjoy a guided trout fishing back country trips in the Smoky Mountains for fly fishing. We provide all the food and gear for the weekend plus expert guide instruction! These guided trout fishing back country trips get you setup on the stream with the proper tools for a memorable trip. You will be fishing wild water that receives very little angling pressure through the year. I started running the back country trips in 1987 on primarily Deep Creek and Hazel Creek. I have expanded them over the years to include many others but I am still partial to only a handful of watersheds. These trips are customized to the group size.
The trout fishing back country trips are typically Friday night through Sunday for an all encompassing fly fishing trip excursion! Some of my fondest memories of fishing Deep Creek above the Bryson Place in the park were during the back country trips in the late 1980's. The campfire tales make for some great camaraderie with plenty of fish stories! It always seems that the two and a half days goes by like only a few minutes when being a part of the back country trips.
Some of the most popular streams near Bryson City, NC include Deep Creek, Noland Creek, Forney Creek, Hazel Creek, Eagle Creek, Twenty Mile Creek, and the Oconaluftee River. These are all in the Great Smoky Mountains National Park and can be easily accessed from Bryson City, NC. These streams have a healthy population of wild fish and tend to respond very well to surface activity through most of the spring. This creates a dry fly paradise for the little town of Bryson City, a.k.a. "Trout Mecca". The dry fly fishing in the Smoky Mountains is best during the spring months. If you tie your own flies or need to purchase flies at your favorite fly shop you can view the historical hatch report by clicking on it.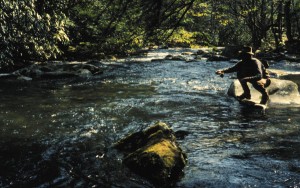 Hazel Creek
You should bring rain gear, warm cloths, sunscreen, lip balm, a hat and polarized glasses. It will benefit your success on the water to come in appropriate clothing that blends into the surroundings. You can also check the weather here for clothing considerations. You can purchase your valid NCWRC license here online or by phone at 1-888-248-6834. You need either a NC or TN fishing license for the Great Smoky Mountains National Park. If you wish to do a single day trout fishing use the guided wade trip page for more information on your fly fishing adventure in the Smoky Mountains. Call for information about your trout fishing trip adventure into the wild! Use the contact page or call (828)736-1469 for booking.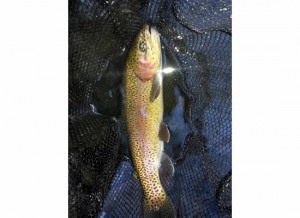 Deep Creek Rainbow Trout