Book Now Full Day Wade Trip Book Now Half Day Wade Trip
Fly Fishing Guided Wade Trip for Trout in Bryson City North Carolina
The fly fishing guided wade trip is common for anglers that desire to learn tactics on the stream. Prices are $575 for (1 or 2 people). Use the Reservation Form for setting up your fly fishing guided wade trip or the Book Now button! We provide all the gear necessary for the trip and welcome all levels of skill.
Enjoy a streamside lunch for all of our excursions. In addition to premier instruction, you will receive a copy of my book "Casting Angles". You can see the products used for the fly fishing guided wade trip over on the sponsor's page which is among the top in the fly fishing industry. We can cover the basics for laying a strong foundation for new fly fishers or build some new tactics, techniques and fly casting for the seasoned angler.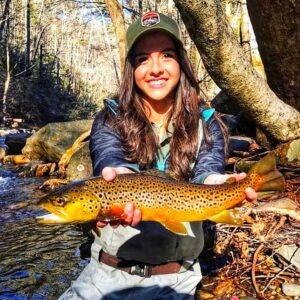 Fly fishing Guided Wade Trip for Trout Fishing the North Carolina Great Smoky Mountains National Park
Most of the sponsors have supported me for over thirty years now with the top products in the industry. We strive to keep the quality experience to a high standard always. We maintain one guide for a maximum of two people. In the spring, the majority of trips are on the delayed harvest of the Tuckasegee River. There are many choices for wild trout streams in close proximity to Bryson City, NC!
What You Will Learn Fly Fishing In Bryson City, NC
Mac Brown is the only Master Casting Instructor in the state of North Carolina. Learn to perfect your deliveries to a high level for a more efficient and enjoyable day on the stream. It is our goal to teach throughout the day. This is what really separates us from 99% of the competition! Mac Brown Fly Fish teaches you to become highly successful on your own fly fishing journey. Some of these topics include rigging, line control, water reading, fly casting, hook sets, tactics (of which there are many), and techniques.
It is our sincere hope that you bring a desire to learn about fly fishing! We love what we do! You decide the areas that you desire to perfect from wet flies, dries, nymphs, or streamer fishing! We look forward to seeing you on the stream in the beautiful Smoky Mountains area of Bryson City, NC.