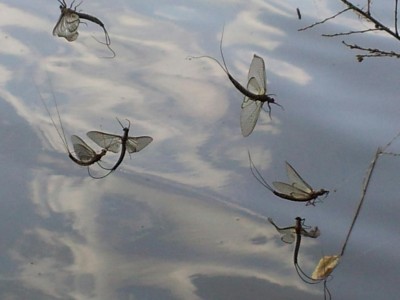 Bryson City Hatch Report
Bryson City Hatch Report
Bryson City Hatch Report
The Bryson City Hatch Report was compiled over the past 36 years from on-stream data to provide the traveling angler some information on local hatches. Terrestrials all summer long include inchworms, beetles, ants, flying ants, and a few small hoppers. 
Caddisflies are most abundant in this region and one should be prepared with larval, pupal, and varying adult patterns throughout the year. Over 330 species have been identified in this region. There are numerous patterns for each of the insects listed above which represent many developmental stages of the life cycle.
This report was compiled from stomach samples of over 14,000 regional wild trout. The trout are sampled through the use of a stomach pump. The results are imported into a database which I use to maintain and analyze the records. This table represents the averages of the emergence dates given by the month.
Actual emergence dates may come early or late depending on weather patterns in western NC. I often enjoy fly patterns that have an attraction with colored hot spots and various trigger mechanism materials like rubber. They usually tend to outperform the drab traditional patterns. 
Bryson City Area Hatch Report for Western North Carolina and the Great Smoky Mountains National Park
Insect / Patterns

Size

Months

Black Stone

14-­16

Feb.-Mar.

Blue Quill

18

Feb.-Mar.

Ephemerella cornuta

Blue Winged Olive

12-14

Feb.-July

Ephemerella cornutella

Blue Winged Olive

18-22

June-Aug.

Olive Midge

18-24

Feb.-March

Male Adams

14-16

Feb.-March

Quill Gordon

12-14

Feb.-April

Dark Elk Hair

16-18

April-May

Ephemerella rotunda

Hendrickson

14-16

March-May

Red Quill

14-16

March-May

Female Adams

14-16

March-May

Ephemera guttulata

Green Drake

8-12

April-May

Cream Midge

22-26

May-August

Stenonoma vicarium

March Brown

12

March-May

Brachycentrus americanus

Dark Grey Caddis

16-18

May

Stenonoma ithaca

Light Cahills

16-18

May-August

Stenonoma fuscum

Gray Fox

14

May-June

Ephemerella dorthea

Sulphurs

16-18

May

-July

Isonychia bicolor

10-12

June-August

Isoperla

Little Yellow Stones

16-18

May-June

Perilidae

Little Green Stone

18-20

June- August

Grey Midge

20-26

October- Feb.

Baetidae

20-26

Hatches sporadic year-round