Float trips are $500.00
Guided float trips use either Clackacraft or NRS boats for all trips depending on water levels. One of the most popular floats in the area include the Delayed Harvest section of the Tuckasegee River. This is the best water for quality float trips near Highlands and Cashiers NC!  We provide any or all gear necessary for the trip including flies that we tie along with a stream side lunch. The float trip can have either one or two people for the float but the price stays the same. We know the hatches intimately of the region from years of stomach sampling on the stream. Check out the
We know the hatches intimately of the region from years of stomach sampling on the stream. Check out the sponsor's  page to see the quality of gear we use each and every trip. No one in the region has the years of experience rowing like what we can provide. The top professional guides are certified in first aid, CPR, and first aid kits included on every trip. We strive to set the highest standard of professionalism on the water in the region of Western NC!
We were the first professional guided fly fishing outfitter in the region in 1987. Now there are literally hundreds of guides between Asheville, NC and Bryson City, NC. The only requirement the state requires is for a guide to have a $10.00 guide license. You can see why it looks like the wild west with outfitters on the internet with over 700 guides in the region now!  We have needed a State of North Carolina Board of Outfitters Association for this region for a long time now similar in structure to what Montana has had for many decades. We are there to share what we know about fly fishing with you and assist you on your journey of proven tactics that get consistent results of fish to the net. The water generation fluctuates so many of our rivers are dependent on the release of water.
During the spring months, our guided float trips tend to be the most popular. Water is often colder and high still which is in part why folks would prefer to float fish. Another advantage of guided float trips is you can stay dry in the boat all the day long without worrying about wading or falling in for an unexpected dip. The last advantage of the guided float trip is that you cover much more water which equates to greater numbers of fish to the net!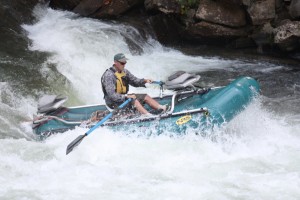 Nantahala Falls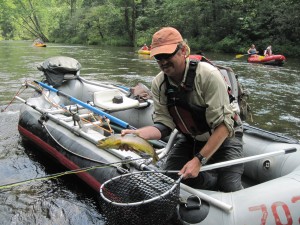 David Woody from Andrews, NC with a great Brown Trout
Area Attractions Near Bryson City
Other area attractions can be found through contacting the Bryson City, NC Chamber of Commerce. The number is 800-867-9246. Swain County is the trout mecca of the southern states. Over 75% of the county is either Nantahala National Forest or the Great Smoky Mountains National Park. The Park visitors exceed 14 million people per year! When you consider all of the whitewater rafting, Smoky Mountain Railroad, Appalachian Trail hikes, hundreds of waterfall hikes, great mountain biking, and many other outdoor adventures it is not hard to see why our little mountain town of Bryson City is always expanding.
Many great new restaurants and lodging in Bryson City for hosting large groups. Cherokee, NC is about a 10 minute drive from Bryson City. We are about an hour drive from Highlands and Asheville NC. Knoxville and Chattanooga TN is about 2 1/2 hours away. Atlanta, GA and Charlotte, NC are about a 3 hour drive. Plan your next get-a-away to the trout mecca town of Bryson City, NC! My favorite addition to the town is the Nantahala Brewery which also provides some very good bands all through the season!
Streams and Areas Served
Tuckasegee River
Nantahala River
Delayed Harvest Tuckasegee River
Delayed Harvest Upper Nantahala
Delayed Harvest Snowbird Creek
WNC Fly Fishing Trail
Little Tennessee River
Pigeon River
Deep Creek, Forney Creek, Hazel Creek, Noland Creek, Cataloochee Creek, Little River, and others in the Great Smoky Mountains National Park
Blue Ridge Parkway National Park
Great Smoky Mountains National Park
Cherokee Fly Fishing Only Section
Gatlinburg, Pigeon Forge, Knoxville, and Sevierville, TN.
Bryson City, Cherokee, Sylva, Maggie Valley, Highlands, Cashiers, Franklin, Murphy, Andrews, and Robbinsville, NC. 
What you need to bring
Let us show you what it will take for learning to fly fish on your own in some of the best waters in western North Carolina! Our guides have decades of experience instructing you for a memorable adventure in the Great Smoky Mountains! You should bring rain gear, warm clothes, sunscreen, lip balm, a hat and polarized glasses. It will benefit your success on the water to wear clothing that blends into the surroundings.
You can also check the weather here for layering considerations of clothes. You can purchase your valid NCWRC license here online or by phone at 1-888-248-6834. You will need a trout stamp for everything outside the GSMNP and Tribal Waters in Cherokee, NC. You need either an NC or TN fishing license for the Great Smoky Mountains National Park. The tribal license can be purchased at many of the stores in Cherokee. Use the contact page or call (828)736-1469 for booking.