Destination Trips
Destination Trips
Destination Trips
The destination trips program has one specific goal, that is to provide some of finest angling for trout- period. We explore the best wild trout waters of the world! These destination trips include New Zealand, Montana, South America and more each and every year. My main purpose in providing these custom tailored packages is to ensure that your trip may run as smoothly as possible on the finest waters in the region-depending on your preferences. Many of the international angling packages offered presently in the US are simply travel agents in disguise. I need to work with an individual before even booking a client for these trips. This is to ensure that you have the tools and skills necessary beforehand. This policy alleviates frustration entirely because I want my guest to fish. I teach in Bryson City, NC throughout the year and this would be the location for brushing up on the basics. This policy makes the clients trip more successful, which makes it memorable for a lifetime. I must see the angler's performance on the water to evaluate their skills. This policy enables me to learn ones strengths and weaknesses for choosing water that matches their abilities.
My philosophy of destination trips and my sincere hope is for the angler to maximize the potential the region offers. This is essential when we are talking about flying half way around the planet in pursuit of wild trout. I believe that the greatest single reason for McLeod's success and the high percentage of return business is our experience and the manner in which this knowledge is conveyed. The many tips and other contributions made for a day on the water makes the trip memorable for a lifetime. I always look forward to sharing my enthusiasm and passion for fly fishing in these remote yet rich cultures. I am constantly developing new destinations as well as improving my current trips to "push the envelope" for high quality excursions. These journeys reveal a world where life and care for the Earth are conducted in a different rhythm from the normal 'work a day world'. Come explore the secluded corners of the world in pursuit of wild trout for a learning experience unsurpassed.
Montana
Join me for our classic week of rivers in Montana, which includes fabulous streams and, of course, magnificent trout. You will sample some of the finest spring creeks, small wild water, and large tail-water streams found anywhere in the lower Forty-Eight. I have been angling in this area for decades and know the water intimately. The opportunities are seemingly endless in this huge state. In addition to the normal rainbow and brown trout fisheries-so standard in the east, Montana offers excellent golden and cutthroat trout fishing as well as arctic grayling.
I work extremely hard to provide the highest quality angling trip possible, which regularly attains some of the best catch ratios for the water of the day. Water conditions change often in this state and it is advantageous to be flexible to opportunities as they arise. If you are planning a trip West and would like a learning experience second to none and great group camaraderie, then give me a call for details. The prices vary for these trips because they are personalized to suit you, your time frame and your budget. Call and discuss your Western "dream trip."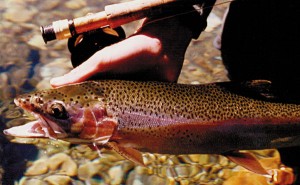 New Zealand
Every fly fisherman dreams of the ultimate dry fly fishing experience. You can fulfill those dreams in New Zealand, angling for large browns and rainbows in crystal clear waters. The Fiordland area of the South Island offers the most beautiful scenery in the world, with thousands of huge waterfalls, glaciers, and enormous trout. Picture yourself wading in waist-deep water and landing these trophy-sized browns on light tackle-listen to the reel scream as they dance across the surface in a bid for freedom. It is rare indeed to have such magnificent angling with surroundings so incredibly beautiful. There have been many evenings that guest have landed and safely released over 185 pounds of brown trout-all caught on dry flies in the last few evening hours. New Zealand is the best wild trout fisheries in the world. The founding fathers of the country planted brown trout throughout the country when the United States was engaged in Civil War. These early 'Kiwi' sportsmen of this Utopian country had futuristic insight for providing one of the greatest salmonid fisheries in the world.
The trip features gourmet food, first-class lodges, overnight camping (optional), helicopter fly-outs, and, of course, the personalized attention that is invaluable in helping others improve their skills. This is rugged country, and streams are tailored to an individual's physical abilities. This package is adjusted for clients to meet their demands and expectations. The trout you can expect to catch on the island would be the fish of a lifetime for many from the States, but in New Zealand it is just another "good fish mate".
If you are even remotely considering a trip "down under" next winter, then the time to contact me is in late winter or early spring-not in October or November. The dates will be in January and February yearly. I am very willing to explain the trips in detail with you, as well as sending a detailed itinerary. This exclusive package is not available from anyone else in the country for the quality trips we are running. Request a detailed itinerary and the options available for this truly adventuresome excursion of a lifetime.