Deep Creek is less than a mile from the town of Bryson City, NC. The Deep Creek fishing report is designed to provide updates throughout the season on conditions. It is one of my favorite streams in all of the Great Smoky Mountains National Park. The state water is just over 2 miles from the National Park boundary to the Tuckasegee River. It has a generous number of wild trout as well as regular monthly stockings. It regularly produces some very large brown trout that migrate up from the Tuckasegee River which flows into Fontana Lake just a few miles below Bryson City.
Burke Robinson fishing the state water near the National Park
The best activity during the summer months will be early morning and late in the day after sunset. Hatches become sparse after June and the water temps rise. Terrestrial fishing is best during the summer months. Beetles, inchworms, hoppers, and ants tend to produce best during the summer. There are Sulphur hatches going on Deep Creek and they tend to come off around 5:00 P.M. The little yellow stoneflies (Isoperla) also are plentiful for June.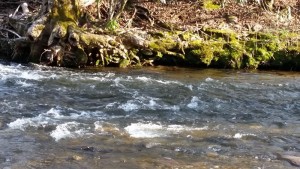 Spring water levels are prime trout fishing!
The section from Indian Creek meeting Deep Creek is where the inner tube folks relax during the summer days. They often float all the way down to where it meets the Tuckasegee River. Several years ago the takeout was typically at the park boundary. The best way to avoid seeing many of them is to go early if it is in the waters below Indian Creek. If you plan on missing the tubers than fish the Jenkins field section on Deep Creek or higher.
Bumgarner bend has always been one of my favorite sections on the creek but requires a 45-minute hike out at the end of the day. This section makes a large horseshoe bend in the creek. Very few anglers pressure the waters here so there are many wild trout!
Another section higher up which is well worth a trip every summer is the Bryson Place campsite. It is rare to see anyone up there during the trip. One of the many benefits of the Delayed Harvest programs in North Carolina is that it has taken much of the angling pressure off of the wild streams in the park. Good fishing to you if you are planning a trip to fish the Smokies!