Positive, Negative, & Constant Rates of Movement
To more clearly understand rod acceleration and more importantly apply it, is the greater the skill. For many decades, it has become inadequately accepted by a majority of good-intentioned casting instructors to incompletely address only the concept of constant rod acceleration. Utilizing only constant rod acceleration may or may not be true depending on your goal of the line and fly layout.
As I compiled in my text, Casting Angles, I used a simple graph that showed negative, constant, and positive force for the concept of conveying the acceleration needed to create the desired layout. Mastering all three rates will give you the control to perform many types of fishing casts given the circumstances faced.
Imagine you roll a small matchbox car across a tabletop. You give it an initial push that has the car positively accelerating. Somewhere near the halfway point, the car decelerates to a stop. This simple analogy can be used to understand the motion you impart to a fly rod. It also helps to understand the higher level of fly line control in that YOU are in control of negative, normal, and positive accelerations to dictate the end result of fly line intent. This is what is meant by line and fly presentation and it is the grail of fly fishing.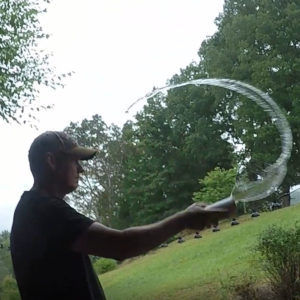 Forward Water Shaped Loops Are Formed by Proper Rate of Arm Movement with Stop (click for YouTube video)
The intent of loop control uses many types of accelerations as that is what helps to create many other types of layouts. This optimal control allows the caster to solve each casting/layout situation and develop their bag of tricks. Sometimes the cast and line need to go straight upriver, sometimes curve right or left, other times the line may go around an obstacle, the caster may want the line to puddle in front or have S-curves in the layout. Sometimes the fly needs to be tucked in and driven straight down deep. Other times it may be tucked in so lightly that a weighted fly hits the water as if attached to a parachute. As you can see, the list can become lengthy for mastering line control.
Disappointingly, most of the highly technical papers on fly casting tend to follow the goal of just getting the fly line out there and having no control over the desired result!
Acceleration exists in three forms: negative, constant, and positive. These three varying amounts of acceleration will change the rod load. Think of the rod load as being able to engage different sections of the rod. The simplistic approach is to imagine bending it from a tip-flex cast all the way to the cork handle. What rate of acceleration enables you to cover this spectrum? All of them are used in fishing casts!
During a lesson, conveying the rate of movement for a particular acceleration is usually the most difficult task to fix. Most casters use too much acceleration. Back off and think smooth application and chances are you will have a light bulb moment occur!
Acceleration
It sounds a bit techy in teaching fly casting to convey the concept of acceleration. What is it? Basic mechanics address position, velocity, and acceleration thanks to Sir Newton. A change in the rate of velocity over time is the acceleration of an object. It is well known to many tournament casters to engage the butt of the rod first by using larger muscle groups. The classic vertical stroke that has been around since 1854 in tournament casting is a good example of this description. The shoulder lifts and the elbow forward points at your target. This lengthens the stroke and assists in creating nice loops for the backcasts.
Is this motion always constant acceleration? No. Yes, the early stages of the casting stroke may be constant acceleration. However, every elite fly casting peer has some amount of jerk in regards to the fly line as they hit an increase in speed near the rod hand stop.
Loop Control in Fly Casting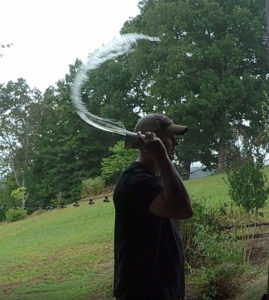 Back Cast Water Shaped Loops Illustrated by Proper Rate of Arm Movement and Stop
The path and rate at which you move help to create the shape of the loop. Just like the image of throwing water from a cup. A paintbrush illustrates this well to new students. Having them flick water from a brush. It assists with a path, rate, stop, and ultimately the trajectory of where you direct the water. Mastering acceleration by students and even instructors empowers them to greater line control.
Unfortunately, many images on the internet use images of narrow loops and wide loops and talk about the clock face instead. Rather than addressing the concept of various acceleration rates, the mantras from global casting groups mention the necessity of a straight tip path using a flexible rod is misleading.
Loop control is a bit more in-depth than just viewing a clock face diagram of rod positions. It is you the fly caster that tweaks various amounts of arm movements (like a kinetic whip) to transfer to the rod, that ultimately transfers this energy to move the fly line. You must practice often in the early stages to perfect your rates of movement to increase your efficiency in fly casting.
It is difficult to ignore bringing up the rate of movement when teaching because it is always a necessity for a better understanding of rod loading. Correct rod loading dictates loop control. That is what fly casting is all about unrolling a length of line to a target!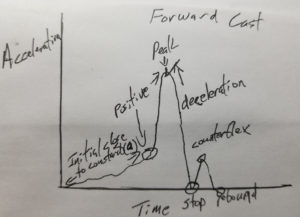 Similar to graphs produced from the Casting Analyzer illustrating the many rate changes of accelerating during the forward cast. (click for video)
Jerk
Jerk implies a change in the rate of acceleration over time. In regards to casting, it is important to remain smooth with the casting motion yet change the rate of acceleration!
Fly casting distance can be thought of as lots of speed as a crescendo is with music! The main goal is to maintain a flat fly leg that travels fast with the proper trajectory. Timing is critical in that the haul, stop, and rod unbending occurs simultaneously.
We build into the crescendo with explosiveness in the haul, rotating very late, and the spring effect of the rod unbend. The Whole is Greater than the Sum of its Parts. First coined by the philosopher Aristotle, this phrase aptly defines the modern concept of synergy.
Rates of Movement in Summary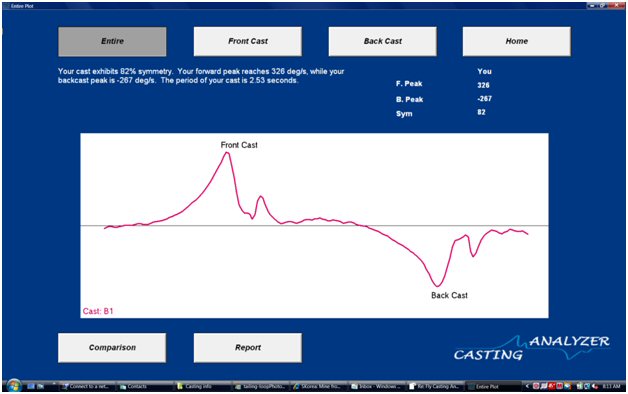 Rate changes of accelerations during the forward and backward cast. (click for video)
To apply these various rates of acceleration imply that we establish varying amounts of rod load depending on intent. One of the problems in teaching casting for over 35 years is that usually, folk's practice sessions have an intent to just get it out there. The intent of practice should deviate all over the spectrum using various amounts of accelerations and decelerations. Tip, mid, and butt flexed casts all yield different line layouts for varying presentations.
One of the best training practices is to learn to appreciate throwing as slow as possible to gain an understanding of just how minimal it really can be. Happy fly flinging.