Learn to fly cast with a Live Video Casting Instructional Lesson
Learn to fly cast with a live video casting instructional lesson is one of the methods that fellow fly casters may use to assist with their journey. This method of teaching during these high-tech times enables the client to use their iPad or smartphone for a live video feed.
Applications used include Facetime, Skype, or Facebook Messenger to name a few. It really is effective for folks that desire to pick up new casts for problem-solving on the stream. Great for all levels of casters from the beginning pick up and lay down cast to advanced fly casts used in fly fishing.
I began using Skype originally with casting clients around the globe for short lessons around four years ago. The results were much better than I expected early on because the video feed lets us make suggestions in an instant. It is practically the same as standing next to the caster for the lesson.
The Magic of Diagnostics for Fly Casting
The reason why it is effective for the fly caster is no doubt because of the instantaneous feedback. Most all of the visual methods fly casters use like Youtube, DVD's, books, etc… have one universal flaw! The flaw lies in the fact that there is no direct feedback. The benefit of using video feedback lies in the direct feedback for your improvements as a fly fisher. This has been commonplace more now than ever during the pandemic of 2020. I have used it to mentor students working toward their FFI certifications with great success.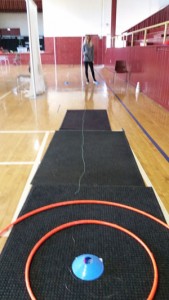 The beauty of using technology today is that opens up direct feedback on a global scale. The picture above illustrates just what is possible with direct feedback from only twenty minutes of instruction which used only word pictures and direct audio feedback. live video casting instructional lesson
Live Video Casting Instructional Lesson Provides Direct Feedback
The fly caster in the pic above was a total beginner fly fisher. She hit two out of three casts into a 2″ target cone at 35′. On her third attempt, she is still within 5″ (picture). The pic is from a fly casting modality study at Lee University. These results are published in the Loop magazine.
This fly casting feat was quite a great teaching moment overall! When new fly casters excel at exponential rates it is always a great moment. For information on pricing give me a call at (828) 736-1469 or email me at macbrownflyfish@gmail.com