Programs and Fly Casting Demos
Programs and Fly Casting Demos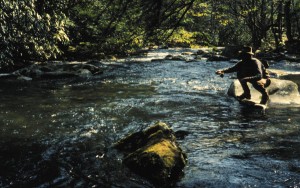 Programs and Fly Casting Demos for Fly Fishing
I have several programs for speaking engagements and clinics. Programs and fly casting demos have been popular for various  TU, IFFF clubs, schools, conclaves, fly fishing shows and other angling events throughout the country.  Below are a few of the presentations I have used in the past for clinics and banquets. Call to discuss having a program tailored to your event.
PowerPoint Presentations
1. "Water Reading for the Fly Fisher" is an in-depth look at subtle clues of where the fish hold and why. This is for moving water and still waters.
2. "Nymph Fishing Tactics" includes the many varieties of competition fishing tactics for subsurface patterns from the bottom to the top.
3. "Fishing the surface" includes the many tactics of aerial mends and line control for pulling off longer drifts for the dry fly enthusiast.
4. "Tailwater Fishing" is an in-depth look at the differences a tailwater fishery offers over a freestone fishery.
5. "Montana fly fishing" is a show on the various rivers and creeks of the famous western state.
6. "Fly-fishing the Smokies" is a presentation of the many streams of the Nantahala region and what to expect.
7. "The Keys for Taking Really BIG Trout" is a show on how to consistently catch higher numbers of exceptional trout.
8. "New Zealand Magic" is a show pointing out the various diversities the country has to offer with plenty of BIG fish shots.
9. "Fly fishing Primer" is a program which discusses all aspects of the sport of fly fishing from food organisms to casting.
10. "Casting Diagnostics" is designed to teach the elements of understanding various casts. It is used for instructors of fly casting.
11. "Modern wet fly tactics" for the fly fisher is a new program that I used in Winston Salem for the fly fishing show in 2016.
We can easily tailor a power point for your school, club, or angling event. Contact me by phone at (828)736-1469 or email at macbrownflyfish@gmail.com
Fly Fishing Clinics or Demo's

1. "An Exercise of Line Control" is a clinic designed to cover many exercises for improving your line control on the stream. These exercises are used after the cast to enhance a desired float on the water.
2. " Casting Angles" is a casting clinic that I use often for teaching the myriad methods of learning curves and piles with the available surroundings on the water.
3. "Change of Direction Casts" is another casting clinic that I use for teaching many of the Spey casting strokes to the single-handed fishers. This clinic opens up many new methods for dealing with obstructions.
4. "Attractor Fly Tying" demo for your fly tying.
We can easily tailor a power point for your school, club, or angling event. Contact me by phone at (828)736-1469 or email at  macbrownflyfish@gmail.com
Area Attractions Near Bryson City

Other area attractions can be found by contacting the Bryson City, NC Chamber of Commerce. The number is 800-867-9246. Swain County is the trout mecca of the southern states. Over 75% of the county is either Nantahala National Forest or the Great Smoky Mountains National Park. The Park visitors exceed 14 million people per year! When you consider all of the whitewater rafting, Smoky Mountain Railroad, Appalachian Trail hikes, hundreds of waterfall hikes, great mountain biking, and many other outdoor adventures it is not hard to see why our little mountain town of Bryson City is always expanding.
Many great new restaurants and lodging in Bryson City for hosting large groups. Cherokee, NC is about a 10-minute drive from Bryson City. Gatlinburg, TN is a 45-minute drive over the hill to Bryson City. We are about an hour drive from Highlands and Asheville NC. Knoxville and Chattanooga TN is about 2 1/2 hours away. Atlanta, GA, and Charlotte, NC are about a 3-hour drive. Plan your next get-a-away to the trout mecca town of Bryson City, NC! My favorite addition to the town is the Nantahala Brewery which also provides some very good bands all through the season!