Trout Fishing Back Country Trips in the Smokies Bryson City North Carolina
Guided trout fishing backcountry trips fly fishing in the Smoky Mountains! We provide all the food and gear for the weekend plus expert guide instruction! Experience a memorable trip learning to fly fish with a guided trout fishing backcountry trip. The local waters near Bryson City, NC has something to offer all skill levels! Learn to fly fish with the best quality and experienced instructor in the Smoky Mountains with the original outfitter in NC since 1987! Mac Brown is a Master Certified Instructor in the FFI and loves to teach fly casting and fly fishing!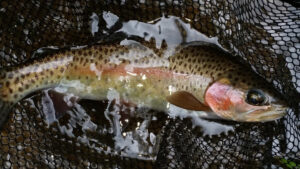 Deep Creek Rainbow Trout
You will be fishing wild water that receives very little angling pressure through the year. I started running the backcountry trips in 1987 primarily on Deep Creek and Hazel Creek in the Great Smoky Mountains National Park. The choices of drainages seem endless with over 85% of Swain County is encompassed with government lands. It is no wonder that Bryson City, North Carolina has been named the "Trout Capital" of the South!
Making Memories Fly Fishing North Carolina
The trout fishing backcountry trips are typically Friday night through Sunday for an all-encompassing fly fishing trip excursion! The campfire tales make for some great camaraderie with plenty of fish stories! Prices vary depending on the numbers in the group (minimum of 5 people) so call for pricing (828) 736-1469.
Hazel Creek Trout Fishing the Back Country of North Carolina
Some of the most popular streams near Bryson City, North Carolina include Deep Creek, Noland Creek, Forney Creek, Hazel Creek, Eagle Creek, Twenty Mile Creek, and the Oconaluftee River. All streams a short drive from Bryson City, NC in the Great Smoky Mountains National Park.
These streams have a healthy population of wild fish and tend to respond very well to surface activity through most of the spring. This creates a dry fly paradise for the little town of Bryson City, a.k.a. "Trout Mecca". If you tie your own flies or need to purchase flies at your favorite fly shop you can view the historical hatch report.