Nantahala River Fly Fishing Report
The Nantahala River fly fishing report provides updates about the river conditions. Took my oldest son, Connor, up to the Upper Nantahala Delayed Harvest section today. Did a great trail run around the Nantahala Outdoor Center trail system. Flint ridge offers many awesome views of the lower Nantahala River. We went below Big Wesser Falls to Town House trail and back around Flint ridge. That was my training grounds for years when I lived in Wesser Creek, so it was great to show him that loop with lots of waterfalls.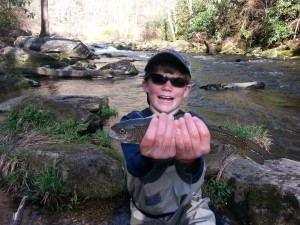 Cold front for the weekend put a chill in the air with bluebird skies. The water was stained a little from the rains last night which made for a little lower light for feeding fish on the upper Nanty. The shaded areas were productive for dry fly fishing. Most of the bugs we saw were Little Black Caddis, Hendrickson, and a few March Browns. The surface had many splashy rises all over the foam lines and right on the edges. It was great to spend a few hours on the upper Nantahala river with Connor on Easter weekend! Connor makes the calls for when and why to switch for all of the changes hence this will help later for solving the most productive method of the moment.
Upper Nantahala Delayed Harvest 4/4/15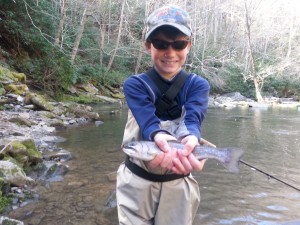 The Upper Nantahala River is roughly 30 minutes from Bryson City, NC. Easter weekend and the opening day of trout fishing on the state hatchery-supported streams kept many fly fishers on other streams. Bryson City is the "trout mecca capital" of the southeast. It is nestled in the Great Smoky Mountains and the Nantahala National Forest. There are a significant number of trout waters all close to Bryson City.
Caddis pupae tied on a DO4BL Maturo wire
The dry fly action was fast and furious in the shade for the first few hours. He stayed busy playing and landing many Rainbow, Brook, and Brown trout from one large pool. I wanted to find some sun on the water to work on nymph fishing tactics. We drove back down the stream a few miles to where the first sunlight was still on the water. It was a great call because this spot was active on fish feeding much better deep in the water column. This location gave up another dozen trout in only a few minutes! A hot crane fly larvae imitation (Tan Mop) from Jim Estes is a great pattern all year long on the Nanty.
Tan Mop Fly on a #10 Hanak Jig Hook