Stewards Of The River Or Pillagers
This short piece is my attempt to increase awareness about problems facing many of our trout waters, in my region as well as many around the globe. Stewards of the river or pillagers address some of these issues facing our resources. In our hemisphere, high summer water temperatures stress the local trout fisheries and should be a sign to concerned anglers that it is time to leave the stream for another day.
Independent guides and fly shops who book trips should be ardent advocates for keeping streams healthy. But often they're not. This was thought the other day with the amount of pressure guides place on a limited resource. Conflicts arise because the summer tourist season occurs when most of our trout streams become stressed. July and August for trout fishing in Western NC are the off-season! When the early morning water temps approach 70 F, it is best to look for something else.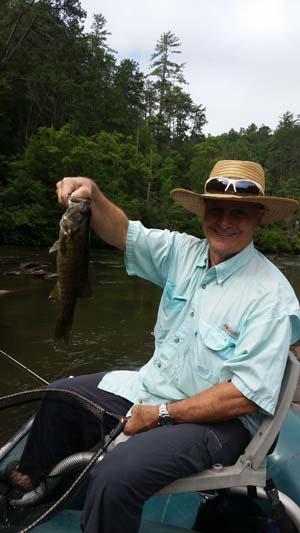 Smallmouth float trip from early August with a group from Tampa, FL
Warm water fishing for smallmouth bass, perch, bluegill, is a better choice. Carp is one of my favorite species to target during summer. Shops and outfitters who tell you differently are profiteers, not stewards of the resource. They look at the short-term since even they know that trout caught in 70+ F water have a very dicey chance of survival.
These profiteers actually hurt the resources they claim to love and protect! This becomes an ethical decision for those customers that are hell-bent on trying to catch a mountain trout during the wrong season!
If you want to trout fish in July or August for vacation then head to Montana, Wyoming, Idaho, or Colorado! Fly fishing has more appeal in recent years, and now vacationers throw it into the mix of rafting, horseback riding, zip-lining, mountain biking, hiking, and many other great activities the Smoky Mountains area offers. The difference with angling when it is too warm is that in no way can it be good for fish or angler!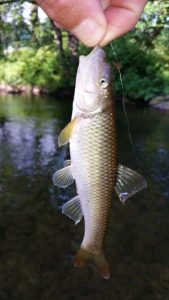 Fish the Season for the Species
Shops and profiteer guides should be offering clients a change of species during the hot summer months. Guides can teach learning to read water, casting, rigging, stream-side techniques, and a host of other aspects of the sport. Stewards Of The River Or Pillagers
This might provide opportunities like targeting Chub (above pic) for learning nymphing techniques through the middle of the day. Chub provide plenty of subtle strikes just like trout! Here is a trophy from a few days ago on one of my favorite streams in the Great Smoky Mountains National Park with my 10-year-old son.
Excess Fishing Pressure for Stewards Of The River Or Pillagers
Excessive fishing pressure is an increasing problem on many delayed harvest trout streams, due mostly to the increasing number of new fly fishers as well as an excess of fishing guides and outfitters. There is a big difference between how much room to leave fellow anglers on a Delayed Harvest stream versus a wild stream. The wild stream requires perhaps a mile or more out of sight. On the Delayed Harvest stream that may be only 30 feet. Delayed-harvest waters receive many numbers of trout that tend to stay together when they are first stocked. Check out our contact page for trip info.
Often, local guides work when and where they can, through shops or other outfitters. Part of the issue is that these guides' experience levels are all over the place. In my region, The Smoky Mountains, there are too many fishing guides. An Ozark term my grandfather used to say is "the market is glutted." Many shops and outfitters just look for bodies to fill slots on their books, regardless of experience and knowledge of the area. In my area, guide prices range from $40 to well over $500 for the same trip on the same water.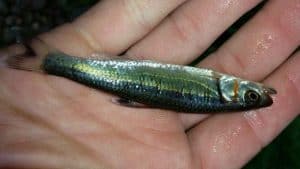 Learn to Fly Fish with Basic Instruction
The difference between what you come away with learning and also catching is quite obvious if you really do your homework first. In fly fishing especially, you get what you pay for. It is all about your intrinsic value! As a beginner fly fisher, I believe it is even more important to establish a strong foundation on which you may grow into the sport.
Most area tourists would hope the local shop will give them credible information. And this is typically true in the Western states for the hundreds of reputable shops.
But, in my opinion, the Southeast is a circus show, with the exception of a few quality shops. People pay hard-earned money for a quality trip. The older I get, the more twisted our sport seems to be growing. Is this positive growth for future generations? Stewards Of The River Or Pillagers
Fly Fishing and Social Media
Blowing up social media pages constantly with "controlled stocked" fish selfies as opposed to wild habitat for trout? It is kind of like the movie "Field of Dreams" in that if you offer it they will come. I am about teaching and educating the sport of all things to fly fishing. How to learn to get the drift, read water, fly casting, and a host of other things. Through education and building a foundation, you can prepare yourself to fish exciting and diverse waters globally!
And it's happening all over the globe. Social media — like advertising on Google Ads, Facebook, Instagram — can enable anyone to compete for clients in their region or create a website or blog by paying SEO experts for internet exposure! I am sure you have all heard that if it is on the internet "it must be true"!
The important question folks should be asking is can the instructor teach casting and line control to provide a drag-free float? Can they teach techniques that will stay with you for a lifetime of enjoyment fly fishing? Will your trip have guides that are enablers to improve your overall skill set on the stream? Will it be a mundane afternoon of bobber lobbing with hearing only the words "mend it, mend it again, mend it" rather than adjusting to the rigging and tactic appropriate for the moment?
Another important question –, regardless of skill, teaching ability, qualifications, certifications, does it even matter to the client? Is it only about who is the cheapest price overall? Is it all about hatchery mutants that are plentiful? So this Disney approach to the sport is something that will take me a while to get my head around. I have pushed hard for very high-quality trips for close to thirty-five years now.
It seems to me that down the road this has to "Make America Dumb Again" in regards to tourism fly fishing mayhem.