Tuckasegee River Fly Fishing Report
Tuckasegee River Fly Fishing Report
Tuckasegee River Fly Fishing Report
The Tuckasegee River fly fishing report is information for the Delayed Harvest season for trout fishing. The hatches have been better on the lower section of the river. The weekends have been less crowded which make floating the river less of an obstacle course. Kind of funny that the wade fisherman goes to great pains to cast to and stand out in the middle of the river. While the anglers in boats tend to cast toward the bank. I guess it is like the saying the grass is always greener on the other side of the fence.
The Delayed Harvest program on the Tuckasegee has been popular with folks wanting a day of adventure fly fishing for trout while visiting Cherokee, Highlands, Bryson City, Franklin, and other nearby towns in the Great Smoky Mountains. Yesterday's float trip was with Phil from NYC who wanted a day of R&R from the work schedule. The delayed harvest programs draw anglers from all around the country to this scenic area of the Great Smoky Mountains.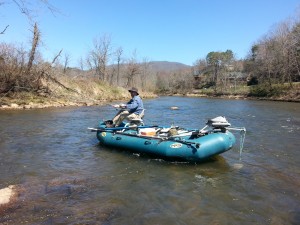 Fly fishing the lower end of the Tuckasegee River Delayed Harvest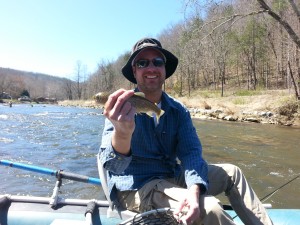 A typical Rainbow Trout while float fishing the lower Tuckasegee River
Trout Move Around All Year Long
Trout activity tends to be best in water type along with conditions. The fast water in the head of pools during lower flows in the mornings. Deep Pools in Winter months. The fish pod up in large number in this type of water. The brook trout action is in the slower pools off on the edges which are typical of all the delayed harvest streams.
Yesterday's float trip was best using nymphs fished deep early in the morning. About noon the same flies were fished much higher in the water column. We had a strong March Brown hatch come off around 11:00 A.M. The trout focused heavily on the surface activity looking for duns right before the increase of water flow due to generation. This was the most active period for us during the float trip.